Certain phrases and terms tend to make my skin crawl when I see them in a news or blog headline. Where I have seen the term 'Millennial' most commonly used is in the context of tapping into a group of young consumers to find the best method extract funds which they seem to have no idea how to spend effectively, or recommendations on how to 'deal' with millennials in the workplace. A faceless and seemingly illogical demographic with a potentially large wallet if marketing firms and human resources departments don't act immediately to shrink it.
At the time I'm writing this, today is April 25, 2017. This date marks one year since Pew published its research indicating that Millennials have surpassed Baby Boomers as the nation's largest living generation. Roughly a year before this research was published, Millennials overtook Generation-X as the largest generational segment of the U.S. labor market. Although the specifics of these stats can be disputed on the basis of there being no official Census Bureau generational boundaries, there is no disputing this generational change in populations and the labor force, will, or has already occurred.
This trend is genuinely great news if you are a Millennial, but these gains in population distribution have little to no bearing on representation as Millennials are appallingly underrepresented in government. Currently, Millennials are represented by only five of the 435 members of congress whereas Boomers occupy a whopping 270 seats. So, while Millennials are the largest generational segment of the country's population, it translates into little in terms of material impact.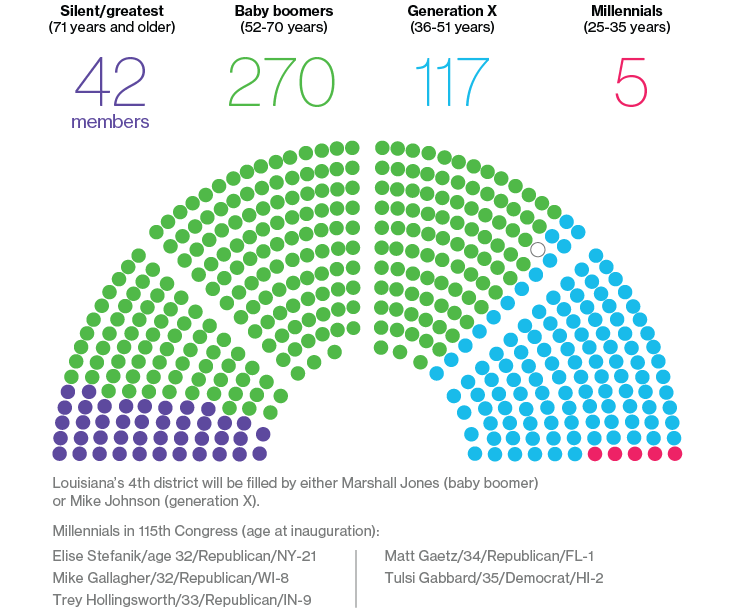 One way this 'maturity' of congress can be explained is the inherent nature of career experience and the incumbent's inherent advantage. Another more concerning explanation of how we arrived at this predicament is due to a terrible divergence in voter turnout. The Baby Boomer voting-eligible population peaked in size at 72.9 million around 2004 and in that same election year, voter turnout among eligible Baby Boomers was about 72%. By comparison, voter turnout among eligible Millennials peaked in 2008 at an abysmal 50%, and dropped in 2012 to 46%.
While voter turnout has historically always been worse among younger generations, the drop in recent years is particularly concerning as it appears this is a trend which will not be corrected in a linear way. Let us not forget that, issues aside, we just elected the oldest president in history.